CCTV Systems and Installation in Milton Keynes & Leighton Buzzard
S&D Contracts provide CCTV security and Door entry system installations and maintenance for the home and business. We have years of experience in both small and large scale CCTV systems.
CCTV Installation and Security Systems for Homes
Home security systems and CCTV installation are becoming increasingly popular for families and homeowners across the UK. We understand that home and domestic security systems are valuable investments into the protection of your loved ones, your tenants, your property, and your possessions. Protecting what is important to you is important to us, which is why we provide high-quality CCTV installations and security systems.
As well as systems that will monitor the interior of your property, we also have plenty of systems for the exterior including your driveway, garage, and garden. Our CCTV installations stretch from a single camera angled at your front door, to multiple cameras covering your full grounds. Speak to a member of the S&D Contracts team today to find out how you can begin protecting your home.
S & D Contracts can provide a full CCTV installation service, enabling you to monitor and record all areas of your premises 24 hours a day. Whether it is your business or your home, we understand that security is crucial in order to protect both financial possessions and your loved ones. Using innovative CCTV security systems, we can help put your mind at ease, providing comprehensive installations, demonstrations and advice.
As well as being used inside your home, our cameras are perfect for monitoring and recording driveways, garages and gardens to ensure that you are aware when anybody approaches your property. Whether you need a single camera to monitor your front door, or a number of cameras to monitor your full grounds, S & D Contracts can help.
CCTV Installation and Security Systems for Businesses
When you build a business, a lot of effort, investment, and hard work go into it. A business is not only a financial investment, but a personal investment too, and we appreciate that you of course want to protect the fruits of your efforts.
At S&D Contracts, we provide CCTV installation and security systems for businesses large and small. Whether you are an independent retailer and need just one or two cameras, or a larger office park or building requiring a full surveillance canvassing, our professional team are happy to help. Our security cameras operate inside your business and outside, so all angles of your property can be covered and accounted for.
Businesses also benefit from monitored door entry keypads to sensitive areas such as offices, stock rooms, and high-priority rooms. Controlled by a pre-set code of your choosing, this will bar any wayward individuals and curious customers from gaining access to the lifeblood of your business. We also provide fob access keypads, so only a computerised digital key may open certain doors.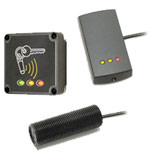 Regardless of whether you're seeking security systems for your business or home, our CCTV installation in Milton Keynes and Leighton Buzzard will help keep what is important to you, safe. Contact Us today to discuss your needs and we will advise on the best products and services for your individual property.